By Chris Cocoles
We profiled former San Jose Sharks hockey star – and avid outdoorsman – Owen Nolan a few issues ago. Nolan, who hosts a fishing and hunting TV show, has taken out many former and current hockey players on his outdoor adventures. And via his Twitter account, he provided this great photo of some of the current Sharks fishing for and catching – wait for it – a shark!
San Jose players Andrew Desjardins, Tommy Wingels, Joe Thornton (who, like Nolan, has already won an Olympic gold medal for Canada) and Raffi Torres took advantage of the NHL's Olympic break while other NHLers participate in the Sochi Games by doing some fishing off the coast near Cabo San Lucas, Mexico. Here's what they landed, per @OwenNolan11:
A few @SanJoseSharks put a real shark in the boat. @AndrewDesjardin @TommyWingels Big Joe & Raffi Torres #sharks pic.twitter.com/iKLD3YmwVX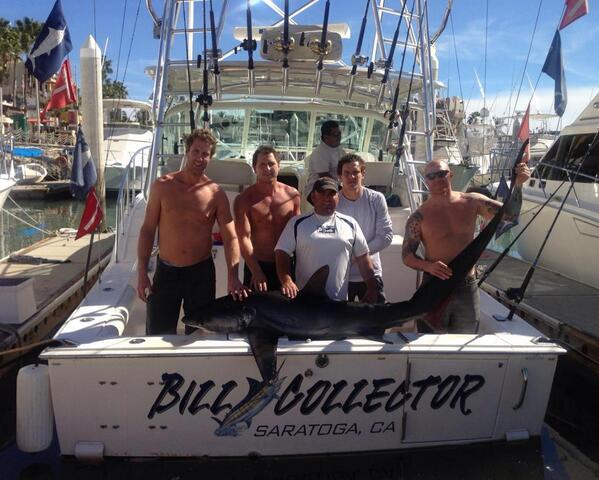 The hockey players also landed and released a marlin (which Nolan's Sportsman360 TV Facebook page had photos of), which probably didn't resonate with hockey fans today as much as Team USA's thrilling 3-2 shootout win over host Russia, a game featuring a key goal from the fishing Sharks' teammate, Joe Pavelski. 
No word on whether or not Thornton, Desjardins, Torres and Wingels were sent to the penalty box for "hooking."