Recreational Dungeness Crabbing Season Opening On Saturday
The following is courtesy of the California Department of Fish and Wildlife:
The recreational take of Dungeness crab using crab traps, hoop nets and snares is allowed starting tomorrow, Nov. 6, 2021, in Fishing Zones 1 and 2 (from the Oregon state line to the Sonoma/Mendocino county line) and in Fishing Zones 5 and 6 (the area south of Lopez Point, Monterey County). The California Department of Fish and Wildlife (CDFW) Director is opening the recreational fishery in these zones under a Fleet Advisory and reminds recreational crabbers to implement best practices, as described in the Best Practices Guide(opens in new tab) to minimize marine life entanglement.
The recreational take of Dungeness crab using crab traps will be temporarily restricted in Fishing Zones 3 and 4, from the Sonoma/Mendocino county line (38° 46.125 N latitude) to Lopez Point (36° N latitude) when the season opens tomorrow due to potential of entanglement of humpback whales and leatherback sea turtles in trap gear. The deployment and use of crab traps in any recreational crab fishery (including rock crab) is temporarily restricted in those zones until lifted by the CDFW Director. Recreational take of Dungeness crab by other methods, including hoop nets and crab snares, is not affected by the temporary trap restriction in these zones and is allowed statewide beginning tomorrow, Nov. 6, 2021. Please see the summary of hoop net regulations(opens in new tab) prior to deploying gear this weekend.
CDFW also reminds crabbers that new regulations(opens in new tab) require recreational crab traps to have a single standardized main buoy which measures at least 5 inches by 11 inches and a single red marker buoy that measures 3 inches by 5 inches. The marker buoy may be attached to the main buoy or on a trailer line no more than 3 feet in length. No additional buoys or trailer buoys may be used. There is also a 10-trap limit and all traps must be serviced at least every nine days. Lastly, each recreational crabber who uses traps must also have a Recreational Crab Trap Validation, which is available for purchase online from the CDFW License and Revenue Branch or at licensed retailers.
The California Department of Public Health (CDPH) has issued a shellfish safety notification(opens in new tab) warning recreational crabbers not to consume the viscera (internal organs) of Dungeness crab caught between the Sonoma/Mendocino county line (38° 46.125 N latitude) to Point Reyes in Marin County (38° N latitude). This warning is due to the detection of elevated levels of domoic acid, a naturally occurring toxin.
While domoic acid levels may vary, consumers should always follow these best preparation practices to avoid any inadvertent exposure to domoic acid that might be sporadically found in the crab's viscera. When whole crab is cooked in liquid, domoic acid may leach into the cooking liquid. Water or broth used to cook whole crab should be discarded and not used to prepare dishes such as sauces, broths, soups or stews (for example, cioppino or gumbo), stocks, roux, dressings or dips. Cooking crab does not decrease or destroy the toxin in the viscera or body meat. Consumers are advised to discard the viscera and cooking liquids. The best way to reduce the risk is to remove the crab viscera and rinse out the body cavity prior to cooking, i.e., boil, steam or fry and then discard all cooking liquids.
Symptoms of domoic acid poisoning can occur within 30 minutes to 24 hours after eating toxic seafood. In mild cases, symptoms may include vomiting, diarrhea, abdominal cramps, headache and dizziness. These symptoms disappear within several days. In severe cases, the victim may experience trouble breathing, confusion, cardiovascular instability, seizures, excessive bronchial secretions, permanent loss of short-term memory, coma or death. CDPH, in conjunction with CDFW, will continue to test crab in this area until domoic acid levels have dissipated.
For more information on health advisories please visit the CDFW Health Advisory page or call the Domoic Acid Fishery Closure Information Line: (831) 649-2883.
For information on the new recreational crab trap regulations, please see the FAQs or CDFW's Whale Safe Fisheries page for more information related to marine life entanglement and the risk assessment process.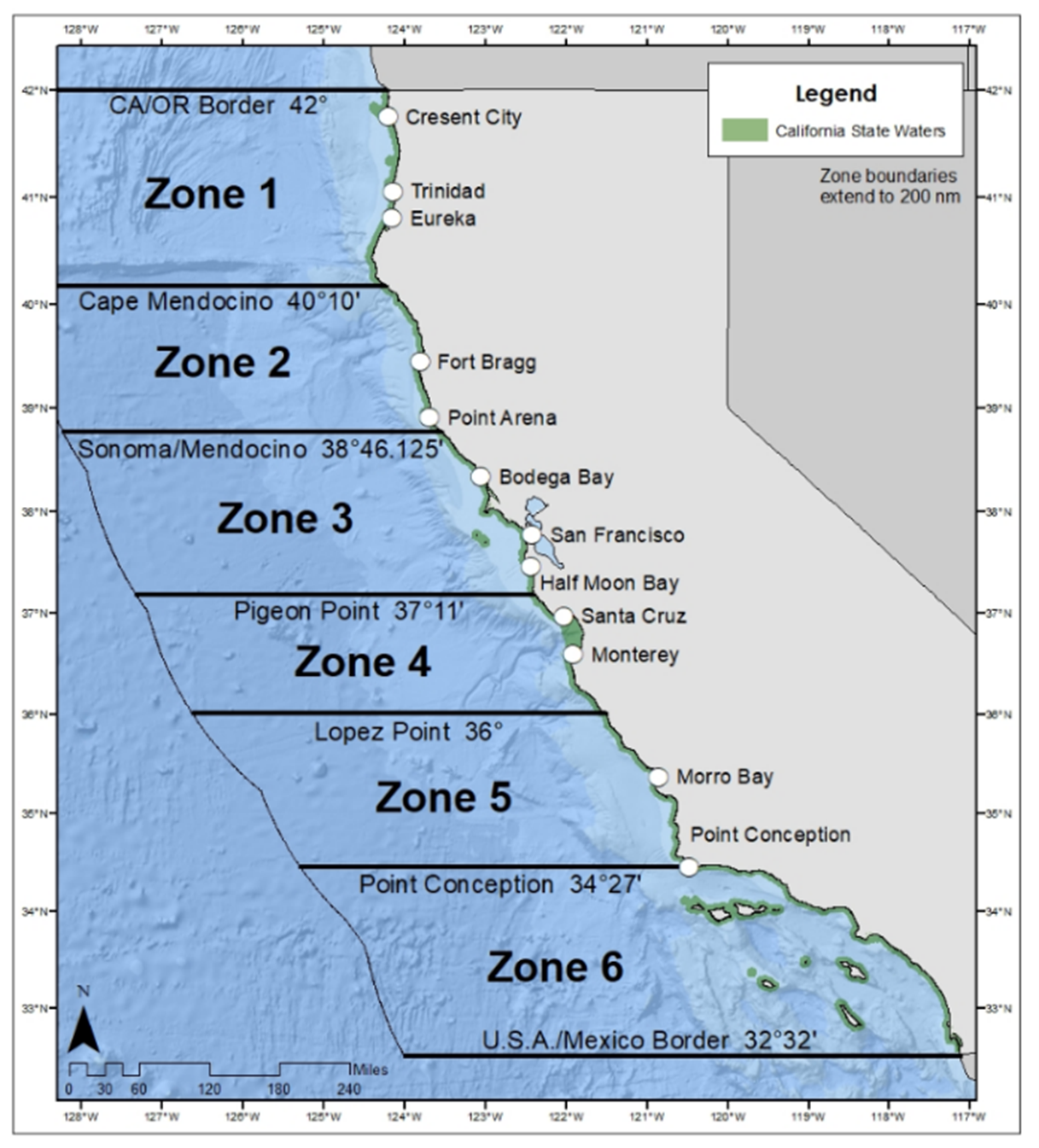 ###