Butte County Receives Funding To Help Widllife Area's Water
The following press release is courtesy of Ducks Unlimited: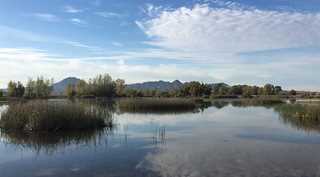 The Biggs-West Gridley Water District (BWGWD), in partnership with Ducks Unlimited, has been awarded funding of up to $52,458,449 by the California Natural Resources Agency (CNRA) for project work to improve water delivery to Gray Lodge Wildlife Area. This grant from CNRA's Proposition 1 Central Valley Project Improvement Act (CVPIA) Grant Program will improve BWGWD's water delivery system to Gray Lodge, enabling the wildlife area to receive full water allocations for the first time.
"We are thrilled to be selected and excited to work with our partners in enhancing Gray Lodge to ultimately benefit waterfowl, wildlife, and the environment in the Central Valley," stated Eugene Massa, BWGWD's General Manager. "BWGWD has long wanted to deliver full water supplies to Gray Lodge while still meeting delivery needs for our agricultural customers. This project enables us to accomplish that goal,"
The BWGWD is the grantee for the project with Ducks Unlimited acting as the prime contractor and project manager. BWGWD's water conveyance system currently does not have the capacity to deliver the required flows to Gray Lodge consistent with the wildlife area's monthly needs to meet habitat objectives while concurrently meeting agricultural water delivery obligations. The proposed work will improve the reliability to deliver full water supplies to the wildlife area and will create 13,000 acre feet of new water conveyance capacity.
"Gray Lodge is one of the most important wetland areas not only in California's Central Valley, but also in the entire Pacific Flyway," said Virginia Getz, Ducks Unlimited's Western Region Manager of Conservation Programs. "It provides vital wintering habitat for up to one million ducks and more than 100,000 geese. This project will deliver the conveyance system improvements that are long overdue and provide the capability to deliver mandated water supplies to Gray Lodge to support high quality wetland habitat for waterfowl and other wetland-dependent wildlife."
Other partners on this project include the U.S. Bureau of Reclamation and California Department of Fish and Wildlife.
"This is an opportunity to show how cooperation between the state, the water district, farming community, and wildlife interests can result in incredible success," said Ducks Unlimited's Western Region Director of Operations, Mark Biddlecomb. "Gray Lodge is one of the jewels of California's Central Valley and Ducks Unlimited is proud to play a part in its continued enhancement."