Plan Your Dream N.Z. Hunt With Manuka Point
Hi Steve

Our hunting season here at Manuka Point Lodge opens in just 28 days from today. Please note we have just one vacancy left in May and one in June 2016.

If you are considering booking New Zealand with us this year I recommend you do so before show opens next Wednesday.

Will, Marianne and I will be exhibiting at the Safari Club International Show, Las Vegas next week (shows open Wednesday, Feb. 3 thru Saturday, Feb. 6), you may visit us at booth #4175.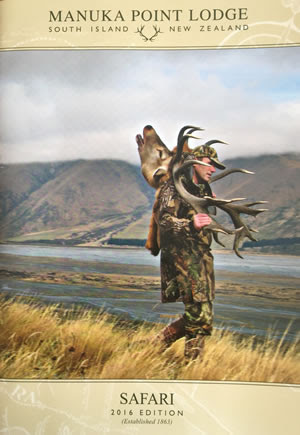 Additionally attached here is our 2016 brochure, which is especially useful if you happen to be somewhere else in the worldnext week.
If you have any questions about hunting in New Zealand or like to make a booking, simply reply to this email or give me a call on US Freephone
1 855 750 0845
or call direct on
+64 3 318 5878.
"I personally promise you the finest trophy hunting experience imaginable."

Best regards

Don Patterson

Professional Hunter, Outfitter and Owner of Manuka Point Lodge